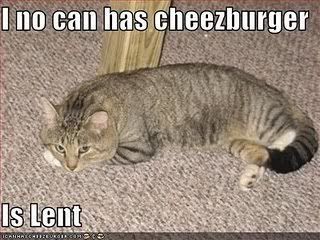 I've really been floundering this year about what to do for Lent. Of course the not-to-be-devalued traditional penances of additional prayer, fasting and almsgiving are in the bag. But I really wanted to have a more pointedly personal season of conversion this year.
Last night, when I was really beginning to despair of finding a suitable tailor-made penance for Lent, a painful wave of self-revealing inspiration came.
I haven't decided on any particular one, but a partial list of possibilities includes forty days without:
1.
Bossing
my husband around. Just because I know he'll do almost anything I ask doesn't mean I should ask. Especially if I'm just asking because I'm too lazy to do it myself.
2.
Micromanaging
. Contrary to every instinct in my being, there
is
more than one way to do any given task, and it doesn't always have to be done
my
way.
3.
Critiquing food
. "This could be better if it had..." "You know what would make this
really
good?" "If this were just a little riper..." "If this were a little thicker..." "If it had been cooked just a few minutes less..." "I bet a little .... would really help this." Under the guise of being a culinary genius, the quest for foodie perfection is an ugly habit that betrays a hedonistic sensuality and revolting lack of gratitude.
4.
Griping rather than serving.
"You left the cabinet doors open." "You left the shower door open." "You left the light on." How much effort does it really take for me to close a cabinet door?
5.
"I'll do it later."
There are no safer words to assure that it will never be done. If the task takes less than 5 or 10 minutes, there's no good reason not to do it
now
.
6.
Sulking
. My passive-aggressive self absolutely loves a good sulk. For instant gratification, it's so much more satisfying to wallow in being offended than to articulate the grievance and seek resolution. More than half the time, once I've wasted a gorgeous day cold-shouldering and sulking, I find out that the offense was actually a complete misunderstanding with no real wrong committed... which leads to further sulking.
7.
Gossipy prayer intentions
. For the sake of getting to talk about other people's problems, I've been known to couch any juicy gossip in a prayer intention. "Yeah, we really need to pray for Betty Lynn. Her marriage is not doing so well." "Georgeanne nearly had a nervous breakdown. We really need to add her to the prayer list."
And at least for these... I don't intend to break on Sundays.