Determined not to have my
entire garden decimated by the mysterious pest
, I mixed up a lethally spicy concoction of jalapeños, habañero peppers, raw garlic and water. Supposedly if you spray the spicy slurry on the leaves, the bugs, birds, and beasts will leave your precious produce in peace.
Besides clogging the nozzle of my spray bottle, it seems to be working quite well. I positively doused
everything but the lettuce, because, after all, I wouldn't want the trick to backfire (so to speak).
A few days later,
Enter, Stage Left
: this
tantalizing recipe
.
"I have pea shoots!" I yelled to my laptop. "I have walnuts, and Parmesan. I even have mint!"
Excitement got the better of me.
You can see where this is headed, of course.
"Delicate," they said. "A burst of intense pea flavor," they said.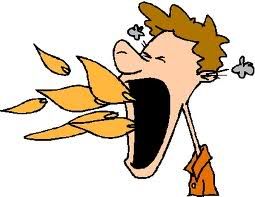 I think the salad was good. I'll let you know when my tongue is extinguished.