I've been dreaming and scheming for over a month for last night's dinner. And it turned out
almost
as wonderfully as I'd hoped!
Beets! What wonderful little creatures! They make such delightful hearts with so little effort. And their juice perfectly dyes anything else you want to turn red without using Red #40 liquid food coloring. With a little salt, pepper, oil and vinegar, they made a wonderful salad, too.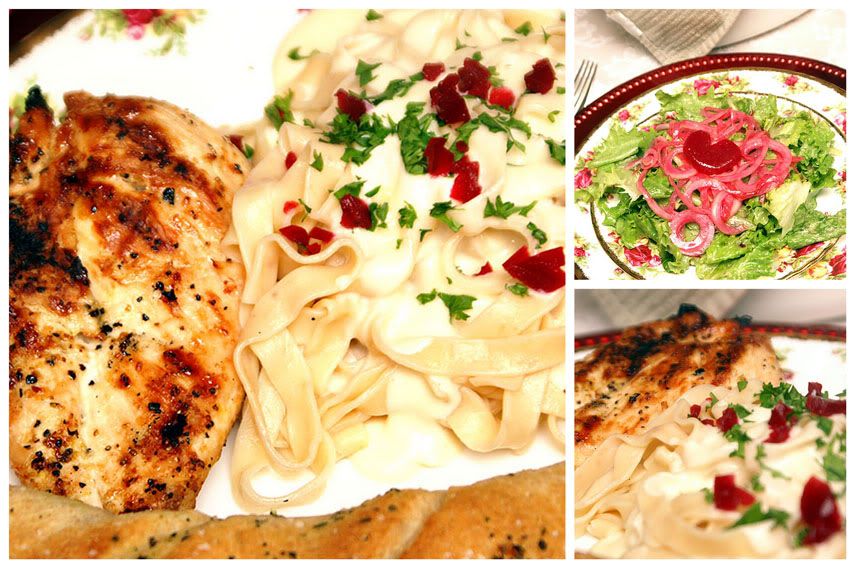 Homemade
beet fettuccine
,
alfredo sauce
, lemon pepper grilled chicken, and my favorite quick and easy
breadsticks
(using 1/2 whole wheat and 1/2 white flour).
I say dinner was
almost
as good as I'd hoped, because I wanted red pasta. About a half hour before I started making it, using a recipe in one of
my favorite cookbooks
, I thought I'd better check a few more sources online. Sure enough, the unanimous consensus is that to get red pasta you have to use fresh roasted beets and
not
canned! So all of the lovely pink of the raw pasta dough was cooked away in the water, but it still tasted amazing.
Excellent champagne was provided by my darling. And we were a little too full for
dessert
, but that's what February 15th is for, right?
What did you do last night?