Let me just say: if you want to recommit to blogging, host a giveaway. My goodness, thank you all
so
much for your kind comments!! They'll keep me fueled up for a good long while.
At the start of the year, I was really trying to hone in on a focused niche for this blog (e.g. just recipes, just marriage, just homesteading...), but after hearing from you all I think the variety is what makes this blog work... and also what makes it utterly unmarketable for advertising revenue, hehe.
Without further ado, the winner of the:
is...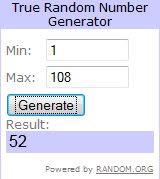 Commenter #52: "Thenotsoperfecthousewife."
Congratulations!! Please contact me to claim the code.
So again, thank you all! You've really helped me to refocus.