*Caution... semi-grody pictures of my cracked/peeling hand are at the bottom of this post. I'm not sharing these to gross people out, but to help people who have this reaction and are worried. If you're squeamish, come back tomorrow.*
Zucchini is one of my favorite vegetables.
Among its other likeable qualities is its versatility. I mean, mix in a little Old Bay Seasoning to shredded zucchini and you've got mock crab cakes. Bake it in a crust with some cinnamon and sugar and you've got mock apple pie. Peel it with a citrus peeler into long strands and you've got zucchini spaghetti noodles. Mix it up with a batter and you've got chocolate zucchini cake, zucchini bread, or zucchini cookies. It can be served grilled, fried, sauteed, baked, roasted, and raw.
Oh, the possibilities of the humble zucchini!
But there's one thing about zucchini that I
really
don't like.
Cue "Hey There Delilah" music while I croon out, ♫♪ "Ooooh, it's what you do to meeeeee, oh ooooh, what you do to me, what you do to meee..... oooh ooooooohh ooooooh oooooooooooh...." ♫♪
What does it do to me?
Well, when I touch raw zucchini juice, it makes my hand feel really tight -- like I'm going to burst out of my skin. And then I do. Lasting several hours, the outer layer of skin cracks and peels away. It doesn't exactly hurt, it just feels very... well...
strange
. Lotion helps a bit, but
water makes it much worse
, which is counter-intuitive because it feels like there's a filmy coat of something that just needs to be
washed away
. While under the water or with soap it feels great, but as soon as it dries it's much worse than before. Time is the best remedy, I think (though some say cortisone cream helps).
Anyway, it's called contact dermatitis, and apparently the whole squash family can cause it, with butternut squash being another main offender.
Cooked? No problem. Reaction to eating (even raw)? None. The reaction is caused by the layer right under the skin of the squash.
So... um... maybe shredding a gallon of zucchini this weekend and freezing three gallons of breaded zucchini spears without wearing gloves wasn't such a great idea.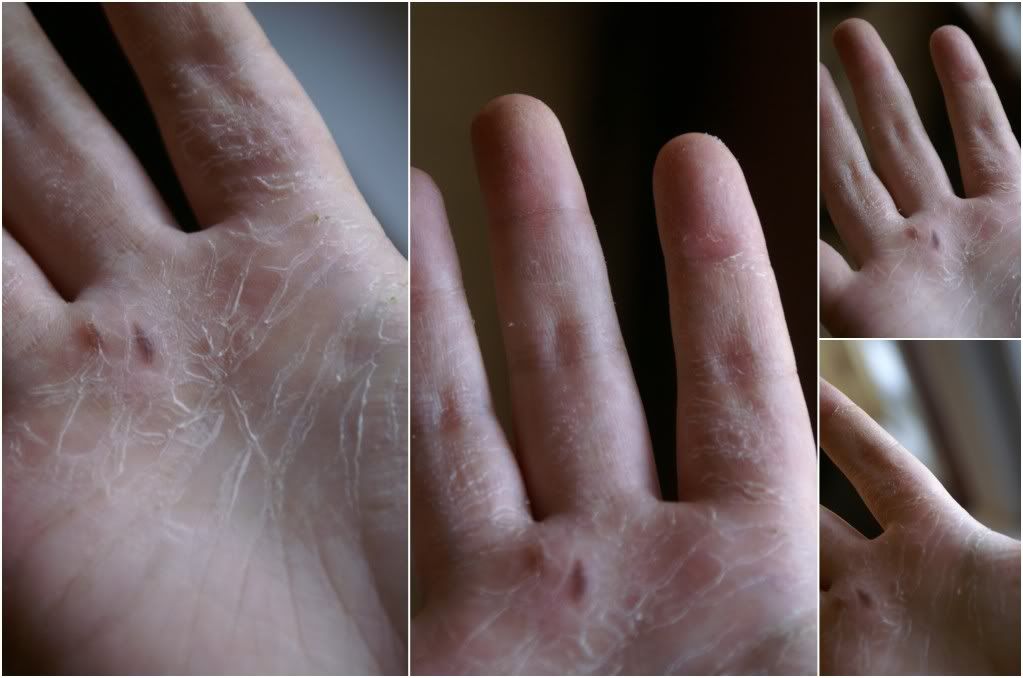 But to preserve the zucchini harvest deep into the winter? To have fresh zucchini bread in February? To be able to pull breaded zucchini out of the freezer and into the fryer on a busy weekday night? Just for a few hours of discomfort?
Totally worth it.
Plus, I got out of doing dishes for an evening.