This post is going to be pretty long because I have writer's block. Trust me, it's much harder to write an articulate, short, pithy post than a long one when you've got writer's block.
I've been doing a lot of experimenting with lacto-fermentation these last two months. It all started with the
dilly beans
.
In case you've never heard of it, lacto-fermentation is an ancient method of food preservation that utilizes the beneficial bacteria already present on vegetables to preserve them while increasing the available vitamins and enzymes, enhances flavor, texture, digestibility of the vegetables, offers antibiotic and anticarcionogenic substances, all while helping support the growth of healthy flora in our intestines. It's beautiful, really. In the days before freezers and pressure canners, food was preserved in this way. The end result lasts several months in cool storage (a fridge or root cellar).
"Lacto" makes it sound like there's milk in it, and while you can aid the process of lacto-fermentation by adding whey (the liquidy stuff that floats on top of yogurt, even commercial yogurt), it's not necessary to do so. As I understand it, "lacto" in this case actually refers to a strain of beneficial bacteria called
lactobaccili
which produce lactic acid; the preserving compound.
Sourdough is a form of lacto-fermentation most people are familiar with, and sauerkraut (not the vinegar shelf-stable kind in the store, but the traditional kind made in crocks) is another, but there are
so many
other things you can lacto-ferment!
Anyway, my point here is not to deliver a discourse on lacto-fermentation but to remark how the interior of my fridge has changed!!
Among my lacto-ferments right now are dilled carrots (not pictured, 'cause I ate all of them right before I thought to take a picture), dilled green bean pickles, Kimchi (Korean sauerkraut), Cortido (Central American sauerkraut), beet kvass, pickled daikon radishes, Kombucha (a fermented tea), dairy kefir, water kefir, and salsa.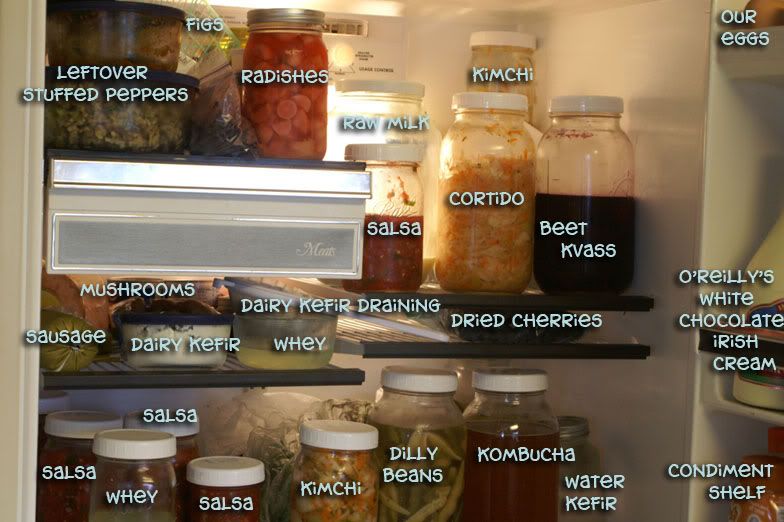 It's crazy!! Those cherries are from our farm and I have to make a conscious effort to stay out of them. I only dried a quart's worth and need to make 'em last a whole year. It's my incentive to make more next year.
The O'Reilly's White Chocolate Irish Cream is a Sunday coffee treat.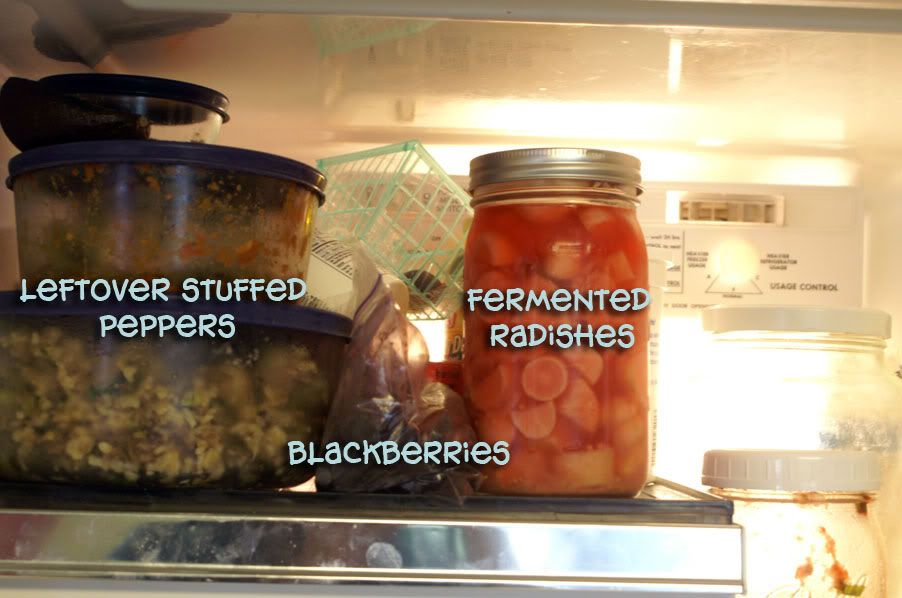 Stuffed peppers are my favorite meal on earth. It's what I make for my birthday every year and as often as I can outside of that. Besides ground beef and a little pork sausage, these (in an effort to sneak extra nutrition), also contain beef heart and liver. I couldn't taste the organs at all; they were
really
good.
Kimchi is fantastic with Chinese food, on rice, and (I know this sounds really gross but my palate is really changing) in canned tuna. Cortido is fantastic in tacos, burritos or fajitas. It's also perfect with pupusas, gorditas, tortas, good gravy my mouth is watering. The salsa (because it's fermented) is kinda tangy, so I prefer on something bland like scrambled eggs (though it's great anywhere cortido is, too, and of course on chips though I rarely eat those these days). Beet kvass is a tonic, not a sip-for-fun beverage, so I just drink a little in the morning and at night.
And I LOVE raw milk. Holy cow it's expensive around here, but until I get a "working" milk cow, my husband allows me some extra $$ in the grocery budget to buy it (in part 'cause he really loves it too, I think, hehe).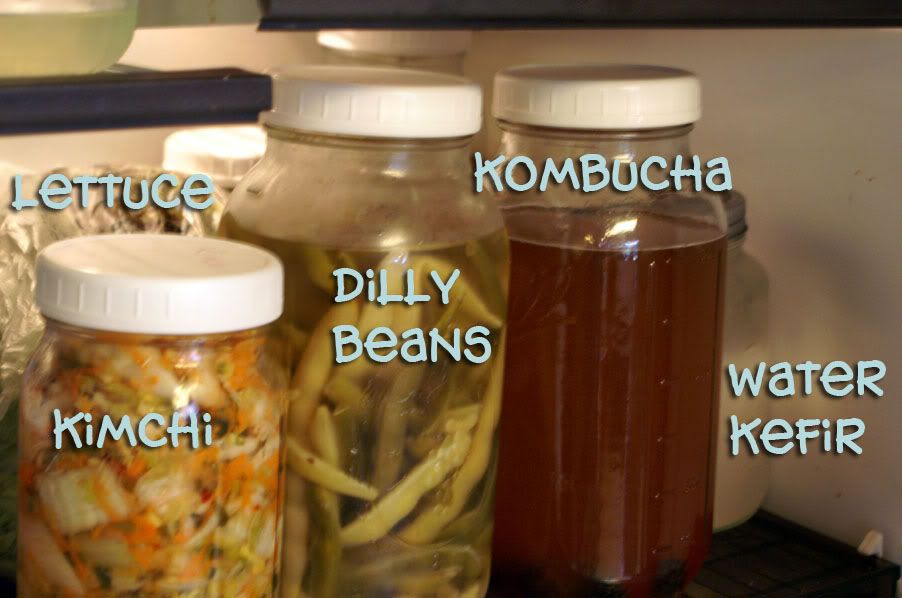 As I said, dilly beans were the first thing I lacto-fermented. I've since made three more 1/2 gallon batches 'cause I really like them. I'd love to say I eat them on the side of a liverwurst sourdough sandwich or something exotic like that, but honestly I just snack on them by themselves. They're sour, salty, crunchy, dilly... a unique and acquired taste, perhaps, but one I've certainly grown to like (and, er, crave?).
Kombucha I brew because a little bottle costs $3. I can make a gallon for around 50 cents (for the tea bags). Honestly I'm still working to like this one 'cause I always let it ferment a little too long so it's usually pretty tart. I made one batch perfectly and really liked it, but my husband loves it and would down the whole 1/2 gallon in a day if I didn't remind him it takes me a week to brew another batch.
Water kefir I've yet to score a real success with. I'm letting the grains hang out in my fridge (in sugar water) until I've got enough courage to try again. I tried every day for 3 weeks to make a successful batch but it never got fizzy and I just didn't care for it, much (and neither did my husband, though he liked it a lot when he lived in Europe).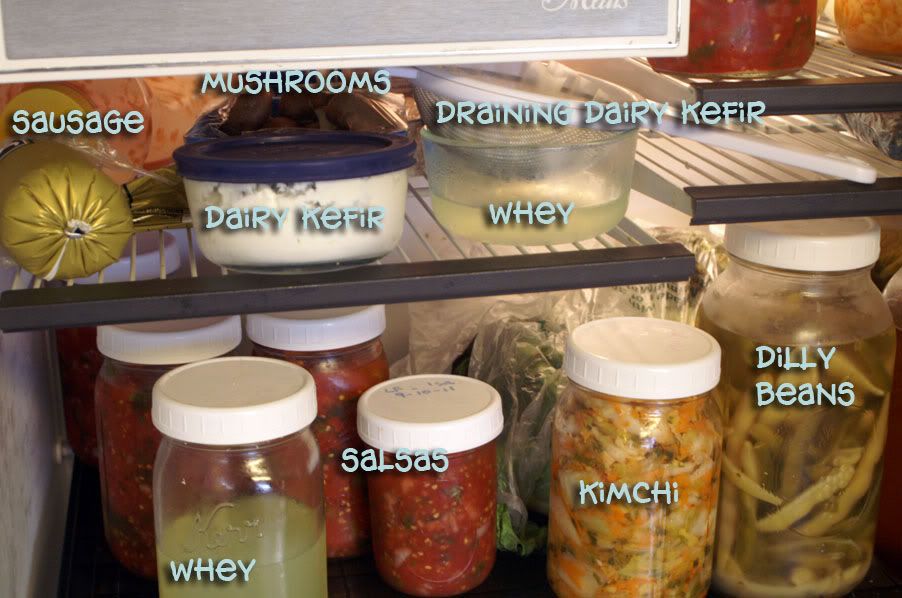 We still eat Jimmy Dean sausage (MSG and all) until this Fall when my husband's cousin will butcher our first hog (well, we bought 1/2 of the hog, anyway).
I
really like
dairy kefir. I strain it (you can see it in a coffee filter inside a strainer over a bowl) until it's really thick and then use it like sour cream. It's
especially
good mixed into
baked potato mashed potatoes
(in place of sour cream). I keep saying I'm going to try kefir ice cream but I never have enough for a batch... someday soon I'll have to do that. I also want to try
kefir bread
.
The whey is used to make lacto-ferments, but there are at least a dozen other uses for it, too.
And these aren't lacto-ferments, but I've usually got radish, broccoli and clover sprouts going, too.
They make lovely salads, are so fresh tasting on sandwiches (or wraps or tacos), and surprisingly are a wonderful last-second topping/addition to soups, especially Asian soups.
So you can see we've been eating and drinking a lot of lacto-fermented things around here the last few months. I'm really quite new to it all but enjoy experimenting and look forward to many many more adventures in this area. Sourdough is my next project to tackle.
As to our health, it
could all be
the placebo effect of trying something new, but since trying to eat according to
Nourishing Traditions
and the recommendations of the Weston A. Price Foundation (which includes these lacto-ferments), my skin is much clearer, I have more energy (no afternoon "give me a nap or shoot me now" slump), I don't have labored breathing, my digestion is... er... awesome, my mood has mostly stabilized (I was an emotional roller coaster for a while, there) and my crazy hormonal infertile body
seems
to be showing the first signs of marked improvement, too.
So there you have it. This is what happens when I've got severe writer's block.