Thank you so much for your suggestions last week about what to do with wild game! Here's what I ended up doing...
Venison:
1 pound venison soaked all day in milk, sliced 1/4" thick, breaded, and fried like chicken fried steak. Served with cream gravy, mashed potatoes, and buttered corn.
Delicious!
No gamey flavor whatsoever... tasted like tender juicy (albeit much more flavorful) beef.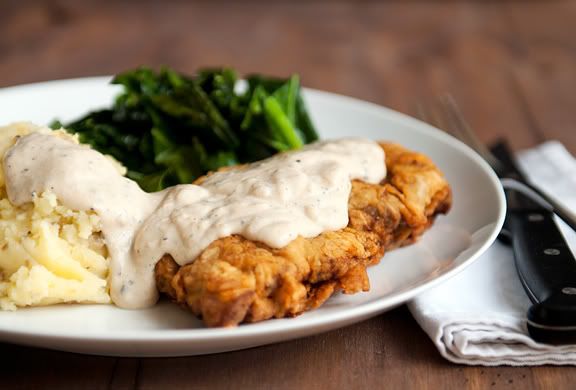 Image source: Use Real Butter
2 pounds venison sliced 1/8" thick, marinaded in brown sugar, salt, garlic powder, onion powder, black pepper, Worcestershire and Tamari sauce for 24 hours. Dehydrated for 7 hours to make jerky.
YUM!!!!
I can't tell the difference between this and beef jerky.
Elk:
4 steaks sliced 3/4" thick, marinated in red wine, salt, garlic powder, black pepper and olive oil for 24 hours. Grilled on a high heat grill for 4 minutes each side. Served with red wine,
baked potato mashed potatoes
and green beans. Tasted just like a rich buffalo steak... a little beefier than beef, but in a good way.
The verdict:
I want a freezer full of game. This stuff was incredible. My mother-in-law said something about somebody having moose... I'm game!