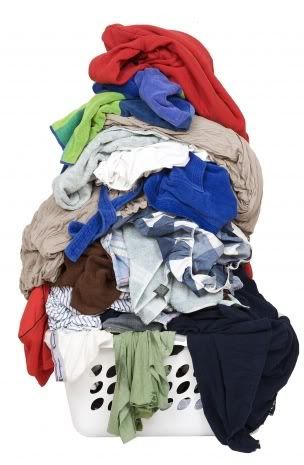 I, like most other housewives, have a hard time with laundry.
I know, I know, I've got it easy. There's just the two of us, of course, so I'm rarely swimming in piles of laundry. It can take us three weeks to go through our whole wardrobe, and even then it may only be four loads.
Regardless of the infrequency, I
really find it onerous
to wash whites.
I
love
washing towels. I don't mind doing darks. But it's a chore to do the whites. Why?
Because I'm obsessive when it comes to matching socks, and despite my best efforts it seems there are
always
mismatched socks at the end of folding time. And it bothers me a lot. I disdain having to match a white sock with a gray one, or a long one with a short one, or a blue banded one with a red banded one. While it's fine in the human sphere, I don't believe in interracial sock marriages.
Last week it came to a head.
"I need to go fold those clothes. But maybe I should just play a game of
Mahjong
Titans first."
6 minutes later
"Hm. That was too easy, maybe I should play another to verify I'm a Mahjong champ."
10 minutes later
"Drat, I
almost
had it that time. I think I need to play again so my win percentage doesn't go down."
8 minutes later
"I should really fold that laundry. I'm wasting time... I could've done so many other things. Maybe I could just play one mo... NO!! Self, go fold that laundry!"
*grumble grumble*
Flash of inspiration.
"Why don't I play Mahjong with the socks?"
I whipped those whites in record time. And while I didn't win, I can't wait to play again.