Hello ladies. Welcome to the tea party!
I don't know about you, but when I hear "tea party," the
first
thing I think about (even before tea) is
cucumber sandwiches.
They're little. They're dainty. They're light. They're lovely.
A few notes:
cucumber sandwiches are supposed to be bread, butter, cucumbers, and maybe a little salt
cucumber sandwiches with the above ingredients taste bland but are perfect for tea
as much as I love being traditional, I have a hard time making bland
Ergo, my version isn't traditional
and I don't care
Now that that's settled, let's proceed.
Very simple. Bread, cucumbers, salt, sprouts (I used clover and radish), cream cheese.
Assemble, with a
tomato rose
, and voila...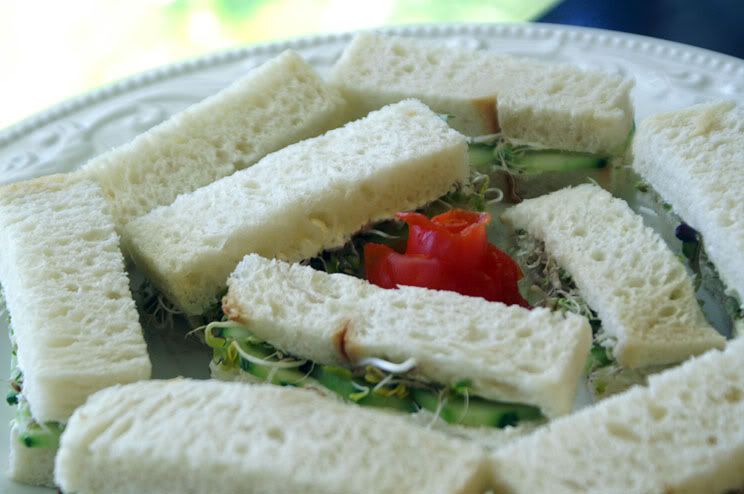 ... a dainty and elegant presentation.
You could, of course, use much more thinly sliced bread. And of course you could use flavored cream cheese (garden variety, anyone?). As it was, these were airy little clouds of crispy goodness. Not a flavor-filled punch packer, but a dainty accompaniment to tea.
Perfect.